O'Rourke warned that America may not see another year if details of Russian interference in the 2016 election included in the Mueller report are not made public, saying, "This is an unprecedented attack on this country and on our democracy, and we are owed the facts. And if we do not receive them, 243 years in, there's nothing that guarantees us a 244th."
"For this democracy to succeed, people must put our country before their party, the next election, the approval of the president. What matters now is the future of the United States," he said.
The Mueller report on Russian interference in the 2016 election was handed over to U.S. Attorney General William Barr on Friday night. Barr has indicated he may have initial information to Congress on the report as soon as this weekend.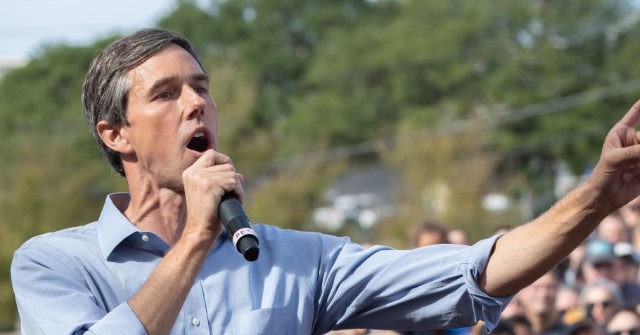 Presidential candidate Beto O'Rourke warned Friday that America could end if the Mueller report is not made public. | Politics
www.breitbart.com
Speaking with California Congressman Eric "
nuke the gun owners
" Swalwell (D) on the phone, Todd pressed him on Trump's form of testimony:
This report was concluded without interviewing the President of the United States in front of a grand jury. Now, there's plenty of – there was plenty of legal reasons perhaps that Bob Mueller decided not to go through with that. Will that be known as a mistake or not?
Of course, Todd's fretting was empty because lying to federal investigators is illegal either way.
And despite the fact that he admitted
Trump answered written questions
, Swalwell bizarrely insisted Trump's testimony would not be included in the report. "I believe the President will have no credibility to attack the report. Because the state of the evidence will not include his testimony," he lied.
Well, it's finally here. Special Counsel Robert Mueller delivered his report on the Russia investigation to Attorney General William Barr and the liberal media began to conflagrate. During the early evening buzz on MSNBC's MTP Daily, host Chuck Todd seemed to express concern over the fact that...
www.newsbusters.org