Yeah, whatever
PREMO Member
After a quick overnight in Kingsville, TX, it was back on the road heading north. Sunday's get out of town challenge ended up being 1 of the last things before we rolled out. The entry step wouldn't go in. It's always something. And they just retracted the day before. I figured it was something electrical. I reconnected the shore power and that did the trick. Turns out the coach battery switch was in the off position. In 13 years of doing this, I never encountered this issue before. Now I know 1 more fix to an RV problem. We shoved off with a small contingent of winter Texans waving to us as we exited SPI. Most of those people will be back next winter.
Our CG in Kingsville was just for 1 night. We stayed here last year when we left to head out west. It was mid 80s in the after noon. I jumped in pool for a bit and the water wasn't heated. The temp was about 5 degrees too cold for my liking.
After a few hours drive I'm off the interstate at a traffic light to turn into the campground. I have .4 of a mile to go. But the street is blocked off. They are doing heavy construction. Instead of turning right I go straight and pull into a business parking lot that is big enough for me to fit in and exit with no difficulties. Vrai pulls up and we brainstorm how to best get to the campground. She drives a test run while I go up to the intersection where the right lane is blocked. They are running bot directions of traffic on the 1 side of the road. I end up driving down and crossing over the interstate, so I can double back and get to the traffic light that will take me to the left side lane that is open. As luck would have it, there is a truck idling in the right side of the narrow lane. When the light changes I have to squeeze the RV between the truck and the Jersey barriers. It's tight and I don't lose any paint. Then it's a short trip down the mangled road to get to our assigned spot.
We quickly get set up. Once we are good to go, it's time to explore this resort. Entry to most buildings is via a code. First stop is the event center. We try the door but it's locked. The note on the door says it's closed due to COVID 19. Same with the game room, craft room and the fitness center. Only things open are the laundries, rest rooms, CG office and the pools. Things will be closed until who knows when. We are here for a month. I hope things get back to normal by then.
Speaking of back to normal. Next thing we did was go grocery shopping. I was tired and the idea of staying back crossed my mind. But when we get to a new area there's always a lot of anticipation to what the area has to offer. Plus a Buc-ees is 5 miles up the interstate. Vrai wants to go the the HEB grocery store in hopes of finding her favorite flame grilled chicken. Not all HEBs offer flaming bird. The grillmaster at the Belton, TX HEB told me they sell 600 chickens daily on average. That's a lot of chicky bird. Not as much chicken as say Navy boot camp chow hall but pretty close.
Once in the car I suggest that we go to Buc-ees first then food shopping later. If you have ever been to a Buc-ees, you will understand the attraction. It's hard to describe. They bill themselves as a travel center. They are not a truck stop. 18 wheelers aren't allowed in their parking lots unless it's to deliver supplies to their store. It's like a convenience store on steroids. There's 60 gas pumps in 2 banks of pumps. It's a great place for fueling the RV. Inside you can get all sorts of foods from snacks to jarred preserves, brisket, kolaches, hot nuts, fudge, sandwiches. They sell raw steaks and a bunch of stuffed chicken products. If you need jerky or summer sausage, they have more choices than you can shake a stick at. Drinks galore. And there is also clothing for sale along with Texas related decor items. On display there is a propane gizmo used for cooking crawfish for around 80 of your closest friends. Deer corn is also a popular offering. Every Buc-ees I have ever been to has at least a pallet of deer corn for sale right outside the side entrance.
We each grabbed a basket then headed out on a personal treasure hunt. I ended up with 2 fresh made scones. That is my go to snack I get every time. Also grabbed a bag of nuggets in the salted caramel variety, some Australian licorice, toasted pumpkin seeds, a bag of honey glazed pecans and a drink. That should fill my snack bin for a while. Vrai always gets the spicier version of what ever it is they offer. Her nuggets were advertised as bold and spicy. To me bold and spicy means something that I'm probably not going to enjoy. She picked up some steak seasoning, cajun pecans and some flaming crackers.
Out the door we go to the super market. Up to this point it was a mostly normal day. Shortly we would be plunged head first into our new reality. Pushing the cart in the store we realize that they don't have the flaming bird for sale. I figured the odds of them having it was around 50/50. In the vegetable-fruit area there are plenty of things but the area where there should be bagged lettuce is empty. It's weird that there would be a run on that. Or maybe they didn't send enough on the last reorder. Pushing past the bakery we come up to the meat counters that run along the back of the store. Staring at the empty shelves I briefly thought that this is what it's like to live in Venezuela.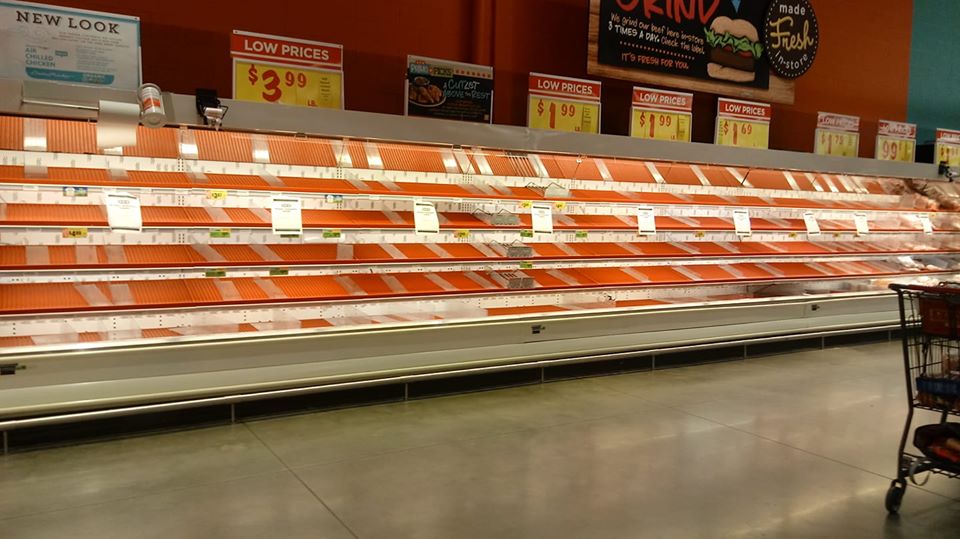 It quickly became evident that there was some massive hoarding going on in this area. Up until this stop we have not noticed any shortages other than sanitizer in the Port Isabel, TX Walgreens. The HEB down that way had plenty of everything they sold. New Braunfels was like nothing I've ever experienced before. But I've never lived anywhere that had that life changing weather event that momentarily disrupts daily life.
The more we strolled the worse it got. No pasta, I got the last olive oil, no eggs, even though you could only buy 2 cartons per person. Cheese, dairy, frozen foods, all of it down to the least desirable items left.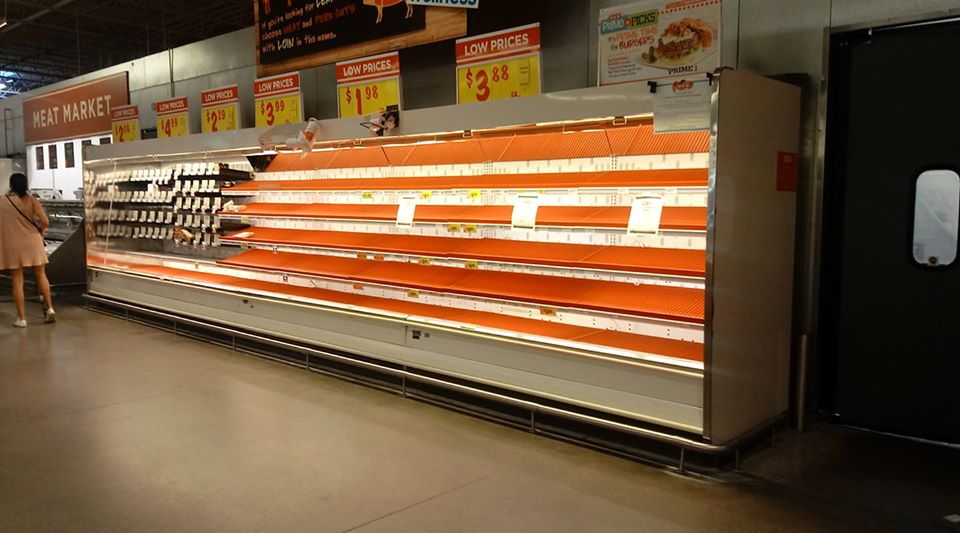 So we won't be starving, just limited on what's available. It could be worse. Hopefully it won't get that way.
There's a lot we want to see in this area. We are close to Gruene and Bandara, 2 places we have been to before. The river is close by and there are a few lakes that I need to go see if they have fish in them.
Y'all be safe and knock that hoarding stuff off right now.