Board Mommy
PREMO Member
Patron
Our campground is about 15 miles from PL in the middle of no freaking where, right on Carancahua Bay (don't ask me how to pronounce that). Not sure what's going on in PL but they have an historic downtown and things we'll need for happiness like a nice HEB and other basic retail things.
And this campground is AMAZING. Right on the bay with a private beach and a nice fishing pier, with every recreation thing you can imagine. They rent all sorts of watercraft - AquaCycles, paddleboards, kayaks, circular tub things that I've never seen before; plus they have beach volleyball, pickleball, elevated decks that overlook the water, and tons of other stuff. The clubhouse is open and they have planned activities for both kids and adults. We will spend a happy week here.
This is the view from our campsite, we are right across the street from the beach and all the action: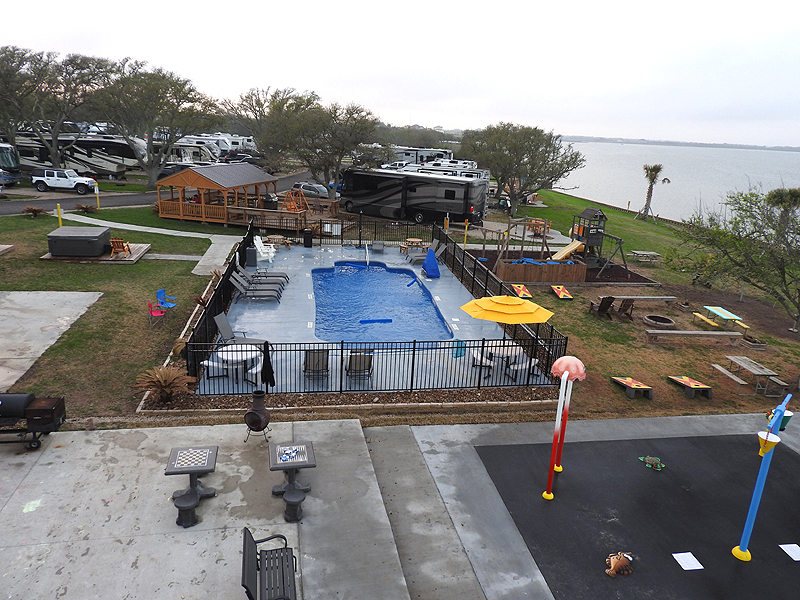 Port Lavaca is a destination - you don't go through here on your way to anywhere unless you're seriously lost. The only reason we're here is.....just because. We like to get off the beaten path and see things nobody's ever heard of before. The only reason I knew it existed is because they called and offered me a job, but I was already committed to SPI KOA. We'll see how the week goes and perhaps I might consider a gig here in the future.
This is definitely a vacation spot and there are tons of families with kiddos running around. Because of the school closings we had a bunch of kids at SPI, too, whereas usually the winter is almost exclusively adults. So the news people can faint in the streets about kids going back to in person school all they want, but I know dozens of families who are liking this online classroom business. At SPI the kids would take a break when I brought the ice cream truck through, run out and get a treat, and back to "class". They'd come out in the mornings when I'd do breakfast on the deck, grab a bunch of food and take it back to "school". They weren't depressed or suicidal or any of those things the news people are assuring me they are. If parents can swing it workwise it's definitely the way to go.
So since they rent paddleboards here, and the beach is right across the street from me, and there's nothing else to do within miles and miles of here, there's no reason not to FINALLY learn to paddleboard, right?