Been a horrible time for pets in our family.
My daughter adopted a one-eyed cat. Turns out it was a congenital condition that caused the loss of the eye and she wasn't told about it from the adoption place. The lens in her good eye detached and it was either remove the remaining eye or take out the lens. Coral now has distance vision only to the tune of $3500.
Then Beanie came for a visit and seemed off when she arrived. Luckily we figured out that she had bloat and were able to get her to an emergency vet in Huntingtown within an hour. Her stomach had rotated 180 degrees and was strangulated. $3600 and two months later she was pretty much mended.
Then, almost a year to the date from when my daughter was hit by a SUV while in a crosswalk (injuries still unresolved) Beanie was struck while in a crosswalk and her left hind foot was "degloved." She just got rid of the bandages (initally changed 3 times a week at $200 a pop) and has a bill of 6-7 K.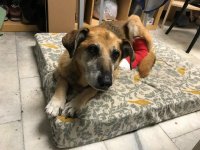 Beanie had a fancy cone for all her troubles
Hattie was a great friend to Beanie during her hard times. Hattie had to also endure have two new rabbits, Sam and Lucy.
Nevertheless, Hattie still had other indignities to endure
V