"I would never join a club that would have me as a member". Groucho Marx

But if there was such a cool kids forum, would there be neat club jackets, polo shirts, neato Ray Bans, and would we be allowed to smoke Lucky Strikes and hang out at bowling alleys drinking cheap beer and farting?? Asking for a prospect...
There used to be....
The underwear was a big hit.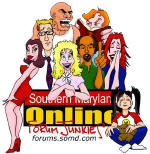 So. Md. Catalog: Forum Junkies Gear!. See what your neighbors have to say, or leave your own comments.