somd.com Editor
Staff member
Patron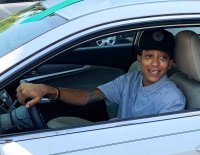 Service King partnered with GEICO and the National Foundation of Integrative Medicine (NFIM) Veterans Division to donate a 2015 Honda Accord to a local veteran through the National Auto Body Council's Recycled Rides program.
Anita James, 32,
was nominated to receive the vehicle through the Veterans Division of NFIM, a nonprofit committed to finding 21st century medical solutions and assisting vets in medical trouble who are unable to get help from the 'system.'
Anita joined the U.S. Army in 2006 and was a Military Police soldier. She worked as a Patrol Officer and RTO (Radio Transmitter Officer) until Honorably Discharged with a medical retirement due to injuries sustained during combat. With the blessing of this vehicle, she will be able to continue chasing her dream career of being a K-9 Officer and a Service Dog Trainer for Veterans.
Anita received the car Thursday, August 8 at Service King in Lusby.
Recycled Rides is a program that provides restored vehicles to individuals and families in need all over the country. Recycled Rides members work with non-profits to repair and donate vehicles to families and service organizations in need.
Additional local vendors who helped make the donation possible are Rockville Auto Tag and Title, Southern Maryland Towing, Detailing Dynamics, All Star Auto Lights, and D & S Glass.
Last edited by a moderator: