Smarter than the average bear
PREMO Member
It's in a parking lot of an AMC movie theater in New Brunswick, NJ. Reported to be the inspiration for the 1972 song Brandy by the Rutgers University band Looking Glass.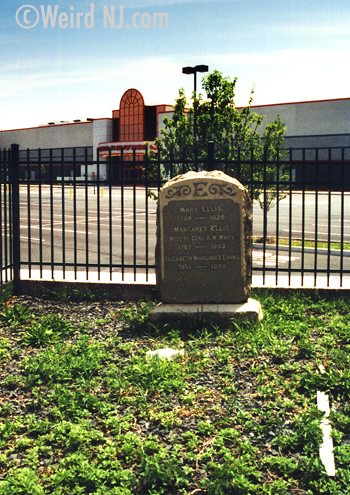 Mary Ellis came to New Brunswick in the 1790's to stay with her younger sister Margaret. It was around this time that she met and fell in love with a man who was a sea captain, and former Revolutionary War officer. The Captain sailed down the Raritan and out to sea one day, vowing that when he returned he and Mary would be wed. He even left her his beloved horse to look after in his absence.

Every day after her captain's departure, Mary would ride his horse from her sister's house, on what is now Livingston Avenue, down to the banks of the river to eagerly await a glimpse of her lover's returning ship. In 1813, she purchased a parcel of farmland overlooking the river from which she would maintain her daily vigil. Mary died there fourteen years later in 1828, still faithfully anticipating her captain's return. She was buried on the property, and was eventually joined by with her sister and other family members, and according to local lore, the captain's horse.
The Final Parking Place of Mary Ellis | Weird NJ