Yes I asked a while ago if I could post them
Oct 8th 1-4:30 is an open wet felting studio, this is an afternoon to trade tips and techniques with other felters. If you want to try felting this is an opportunity to do a simple project. For $20 you have the use of our tables, plastic, tools and equipment. This is not a class, however and instructor is available to answer questions and demonstrate unfamiliar techniques. I will also have Merino wool available at cost for your project. No preregistration required.
Needle felted bear class: October 28th from 1:00pm to 4:30 pm. Cost: $55.00 Some needle felting experience helpful, but not required.
Finished size of Bear is approximately: 5" tall by 3" in diameter.
This class will provide the student with the basic skills needed to create 3D sculpture in needle felting.
We will use brown wool batting to shape and needle into a bear form and then sew beads on for details of eyes and nose.
$45.00 workshop fee and $10.00 supply fee.
Tools will be provided for use such as needles, foam mat and scissors.
Registration required, class is limited to 5 students
Needle Felting a Fall Placemat on Sunday, October 29 from 1:00 to 4:00, $25, materials included. Limited to 10 participants, registration required.
In addition Fuzzy Farmers gives ongoing spinning, weaving and crochet classes. We are located on Washington Street in Leonardtown, MD. Phone 301 475 3899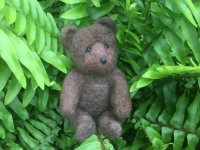 Last edited: