~*~ Rara Avis ~*~
PREMO Member
I remember going here when I was a kid and was amazed to see this story AND it is still open! Great childhood memory of simpler times and my siblings agreed. I need to go on a road trip to go see this again.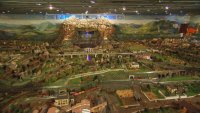 If you're looking for a road-trip into yesteryear -- our Lee Cowan takes has found "A Sunday Drive" that, instead of being off the beaten path, is actually right NEXT to it...

Before I-78 was I-78 – back when folks weren't in such a hurry – a roadside attraction called Roadside America had motorists tapping the brakes.

You could barely find a parking spot when it opened in 1953 just outside Shartlesville, Pennsylvania.

The curious passed under the same sign then that still hangs today: "Who Enters Here Will be Taken by Surprises" – surprises, plural. That's because once inside, there's a surprise around every turn.

"You can walk around it ten times and find something new every time you come around," said one visitor.

Roadside America is a wonderland – part miniature village, part model railroad.

It's all the brainchild of one man – Lawrence Gieringer – a carpenter by trade who began building scale models in the early 1900s. They soon took over his entire living room.

In 1938 Gieringer moved his display to an amusement park in Reading, Pa., but it outgrew that space, too.

It now encompasses nearly 8,000 square feet, with 4,000 tiny residents living and working amid their hundreds of tiny handmade homes and businesses.

Dolores Heinsohn, Lawrence Gieringer's granddaughter, calls Roadside America a testimonial to persistence: "People who want to give up? Don't give up!" she said. "It's an absolute time capsule of an era that's long gone."

It does conjure simpler times... the square dance in the barn; the Esso gas station with its army of attendants; and the church choir singing behind the intricately-handpainted windows.

Lawrence Gieringer passed away in 1963, and everything has remained largely as he left it.

"I always feel it's him in here," said Dolores.

"You still feel that? Even now?" asked Cowan. "And it's emotional for you, right? Because this was his life and you're still the caretaker of it."

"That's what I am."
https://www.cbsnews.com/video/a-sunday-drive-roadside-america/