SMCM Students, Faculty, and Alumni Present at Meeting of the Eastern Psychological Association Michael Bruckler March 05, 2019 - 10:47 am
March 05, 2019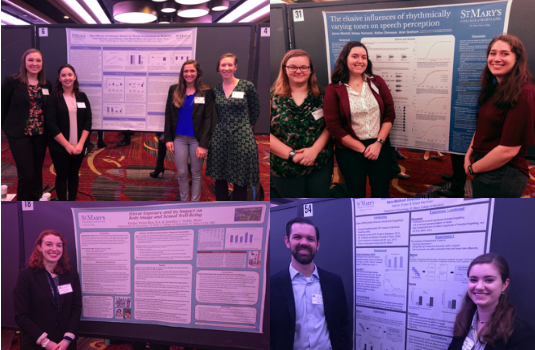 St. Mary's College students, faculty, and alumni presented at the 2019 Meeting of the Eastern Psychological Association in New York City.
Taylor Merchant '19 and Lane Friedman '19 presented on their St. Mary's Project (SMP) research, "The Effects of Chronic Stress on Social Dominance in Rodents" with Anna Matullo-Miller '18 and their mentor, Aileen Bailey, professor of psychology.
Nathan Foster, assistant professor of psychology, and Grace Harriman '21 presented on their directed research project, "Instructed Eye Movements Do Not Affect Item-Method Directed Forgetting."
Kelsey Hancock '18 presented her SMP "Using Acting Exercises to Reduce Prejudice" with her mentor, Jennifer Tickle, associate professor of psychology.
Emilee Weiss-Rice '18 presented her SMP "Mirror Exposure and its Impact on Body Image and Sexual Well-Being" also with mentor Tickle.
James Mantell, assistant professor of psychology, Kelsey Hancock '18, Kallan Dirmeyer '19 and Ariel Graham '21 presented their directed research project, "The Elusive Influences of Rhythmically Varying Tones on Speech Perception."
[
This article originally appeared here
]