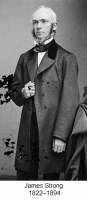 Purpose
The purpose of
Strong's Concordance
is not to provide content or commentary about the Bible, but to provide an
index
to the Bible. This allows the reader to find words where they appear in the Bible. This index allows a student of the Bible to re-find a phrase or passage previously studied. It also lets the reader directly compare how the same word may be used elsewhere in the Bible. In this way Strong provides an independent check against translations, and offers an opportunity for greater, and more technically accurate understanding of text.
Strong's numbers
Each original-language word is given an entry number in the dictionary of those original language words listed in the back of the concordance. These have become known as the "Strong's numbers". The main concordance lists each word that appears in the
KJV Bible
in alphabetical order with each verse in which it appears listed in order of its appearance in the Bible, with a snippet of the surrounding text (including the word in italics). Appearing to the right of the scripture reference is the Strong's number. This allows the user of the concordance to look up the meaning of the original language word in the associated dictionary in the back, thereby showing how the original language word was translated into the English word in the KJV Bible.
PDF
https://ia600502.us.archive.org/16/items/exhaustiveconcor1890stro/exhaustiveconcor1890stro.pdf
Strong's PDF Download

​
Strong's Concordance with Hebrew and Greek Lexicon
http://www.eliyah.com/lexicon.html
​
Last edited: