Sexually compliant
PREMO Member
I didn't realize there is an entire subculture of people that follow this sort of adventure. Her
pictures
and those taken by her friends are pretty awesome.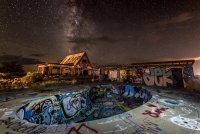 This is 1 of the pictures they took that day before the rains came. Water level is very low. Below you can read the surviving photographers tale of how it happened.
[FONT=&quot]In South Philly, Rebecca Bunting was a popular, tatted-up, 30-year-old bartender.[/FONT][FONT=&quot][/FONT]

[FONT=&quot]But around the world, she was known as

@_bword

, for the persona she used to interact online with the global urban exploration community made up of photographers and thrill-seekers who trespass in abandoned spaces: Some enter these "bandos" for the sake of great photography, others do it for pure, unadulterated adrenaline.[/FONT]

[FONT=&quot]And Bunting was one of the greats.[/FONT]

[FONT=&quot][/FONT]

[FONT=&quot]"She was the bando queen," Carly Weiss, a friend and fellow urban explorer, said. "There's no doubt about it."[/FONT]

[FONT=&quot][/FONT]

[FONT=&quot]While shooting photos with her boyfriend from inside a storm drain near Roosevelt Boulevard Saturday night, Bunting [/FONT]

was swept away by Pennypack Creek's raging waters

[FONT=&quot] during a flash flood, becoming the creek's sixth victim in eight years. Police found her body Sunday morning near the Frankford Avenue Bridge.[/FONT]
bando queen
This is part of a Facebook post from the guy that was with her in the storm drain.
Saturday was by far the worst day of my entire life. I lost my best friend, my loving girlfriend, my partner in crime, my travel companion, the mother to our fur babies who was also a loving daughter and sister. I love you so much Becca. Ive always tried to keep you safe and out of harms way.



She was solid as a rock at all times. She loved to cook for me and she was great at it. Our house was always clean and she made sure the dogs were taken care of. She made sure everything was taken care of. I wasn't aloud to do laundry and would have to fight her to help clean the dishes. She spoiled me and always did everything she could.

Our lives were based around each others schedule. We rarely did anything by ourselves, we were always together. She would even come to work with me on her days off just to practice her photographer more.

im sure you all want to know how could this even happen. If you look at the other photo, that is the drain we were in. It had less then 6 inches of water. We've been here a few times already, and i used to ride my bike in this drain all the time when i was younger. I know friends who's been in there a bunch recently and never had any issues. We checked several websites about the weather and there was no rain coming till later that night.

After about 40 minutes of shooting in the drain, we were literally taking our last few photos as we started hearing water rushing. From what i was told the water was coming from flash floods 3 hours away in the poconos. It never even rained in Philly till hours later that night. Within 5 minutes it went from 6 inches of water to waist high.

We tried to find a manhole to climb out but another 2 minutes later It was up to our necks and we were floating through the drain in rapid rushing water. It was throwing us around everywhere and we kept screaming each others names back and forth saying were gonna be ok. We lost grip and the current took her ahead of me.

At the end of the drain theres a big metal gate. I kept yelling that we had to grab the gate if possible and not go under it. Less then a minute later i was sucked under the metal gate with the water and hit my head on the concrete or the gate. I was then unconscious for im not sure how long. I woke up 25 yards up stream stuck between a tree branch choking up water. I crawled to shore then tried to stand up and collapsed, I couldn't move. I could just scream out her name but i got no response.

The water stripped all my clothes off besides my teeshirt and boxers. I was freezing and my feet were bleeding all over but i finally got up and continued to try and walk down the stream looking for her. The current took me under again and i almost didn't make it out a second time. I knew i had to get to land and call the police.

Im so so sorry Becca. I tried everything i could.I miss you so much. Ive never cried this much. Ive never prayed this hard. Ive never begged for forgiveness like i have the past few days. I've never hurt this bad in my life. Its been 3 days and I've haven't slept. Im sick without you. I just want to be with you. I can't express how deep my love is for you. We had some disagreements and some arguments but none of that could ever separate us for even 1 day. I'll never forget in one argument you said ill be lost without you. You were so right. Im so lost without.