Board Mommy
PREMO Member
Patron
This thing got posted on FB by a friend today and I see similar memes floating around all the time: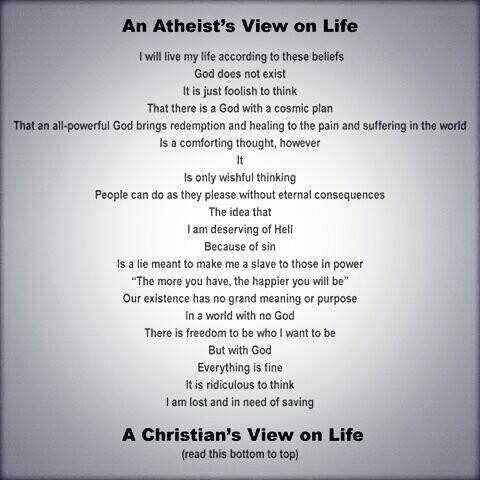 I think sometimes religious people get defensive and maybe think their dogma is a little silly, otherwise they wouldn't be so hot to belittle those who don't believe what they believe. Honestly, I'll pit my moral and emotional health against any Christian any day of the week.
It just makes me roll my eyes when people do this. I don't usually say anything to them because, what do I care? If this is what makes them feel superior, they should have at it.
I had this friend who, when she got successfully from point A to point B or some other routine "accomplishment", always said that the angels were looking out for her. And I'm like, okay so little kids get beaten and murdered every day, they starve to death, they lose their parents, they get sold into sex slavery, all sorts of bad things happen to our most vulnerable.....and you were hogging up the angels to make your dentist appointment on time??? That seems absurdly selfish and self-absorbed to me.
It's all part of that "see me being better than you?" smugness that makes me dislike them. It's where the phrase "holier than thou" comes from. And not all religious people do it, certainly, but enough of them do that it's irritating and makes me wonder if they're not covering for some pretty nasty proclivities. Every business person I've ever know who used God as a marketing tool was a crook. Every single one of them. If they have something religious in their business name, or religious posters all over their shop, you can be sure they're a swindler. Look at all those skeevy televangelists.
Anyway, I'm just having a rant because there seems to be a run on "see me being better than you?
" memes lately. I feel better now.