Kissinger's Shadow: The Long Reach of America's Most Controversial Statesman by
Greg Grandin


"In his fascinating new book, acclaimed historian Greg Grandin argues that to understand the crisis of contemporary America―its never-ending wars abroad and political polarization at home―we have to understand Henry Kissinger.
Examining Kissinger's own writings, as well as a wealth of newly declassified documents, Grandin reveals how Richard Nixon's top foreign policy advisor, even as he was presiding over defeat in Vietnam and a disastrous, secret, and illegal war in Cambodia, was helping to revive a militarized version of American exceptionalism centered on an imperial presidency.
Believing that reality could be bent to his will, insisting that intuition is more important in determining policy than hard facts, and vowing that past mistakes should never hinder future bold action, Kissinger anticipated, even enabled, the ascendance of the neoconservative idealists who took America into crippling wars in Afghanistan and Iraq.
Going beyond accounts focusing either on Kissinger's crimes or accomplishments, Grandin offers a compelling new interpretation of the diplomat's continuing influence on how the United States views its role in the world."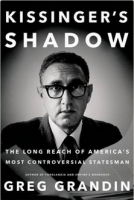 Amazon
Link