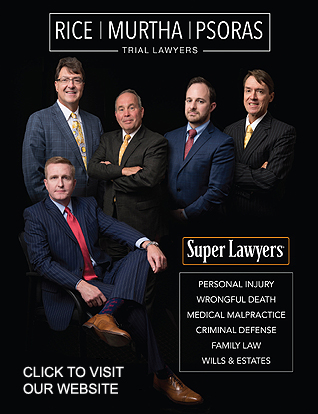 With over 120 years of experience, their team of lawyers and experienced legal support professionals work to help you in a time of legal need.
On the morning of September 11, 2020, the St. Mary's County Sheriff's Office awarded St. Inie's Coffee in Lexington Park, the Stanley J. Goodwin Award. This award is given to those who volunteer their time and service to others and make our county and country a better place for everyone. This award is typically presented to a single person, however St. Inie's is the first business to receive this recognition due to their selflessness and dedication to the community. Catherine and Howie Grube, owners of the business, along with their four children and employees, were in attendance to receive the award. Also present was Stanley Goodwin's widow, Carol Graham, Sheriff's Office Chaplain Charlie Wharton (2017 Goodwin Award recipient), Captain Steve Hall (Commander of the Special Operations Division), and Sergeant Shawn Moses, who nominated St. Inie's for the award.
Carol Graham thanked all who were present, St. Inie's, and all past award recipients for keeping her husband's memory alive through their selfless community service and partnership for the past nineteen years.
"Catherine and Howie are valuable entrepreneurs and community advocates who choose to look outward for what they can do to meet the needs of others verses looking inward in pursuit of their own needs. They have created a vibrant coffeehouse that has a menu, which includes not only great coffee and food, but also a call to greater community awareness and action. Their "bottom line" is used to pull people in the community closer together. They are examples for all of us to follow and everyone at the St. Mary's County Sheriff's Office congratulates the St. Inie's family on this recognition and acknowledgement." -Captain Hall
Disclaimer: In the U.S.A., all persons accused of a crime by the State are presumed to be innocent until proven guilty in a court of law. See:

https://so.md/presumed-innocence

. Additionally, all of the information provided above is solely from the perspective of the respective law enforcement agency and does not provide any direct input from the accused or persons otherwise mentioned. You can find additional information about the case by searching the Maryland Judiciary Case Search Database using the accused's name and date of birth. The database is online at

https://so.md/mdcasesearch

. Persons named who have been found innocent or not guilty of all charges in the respective case, and/or have had the case ordered expunged by the court can have their name, age, and city redacted by following the process defined at

https://so.md/expungeme

.